Note: Some may wonder why I wrote this article that is mainly about mixed martial arts on a site that is specifically for the Rio Grande Valley. While Roger Huerta wasn't born in the Valley, he did live here and spent his childhood and teenage years in the streets of Pharr. He had street fights in Pharr and Memorial Middle School, and was on the high school wrestling team for one year at PSJA North High School. He was also once a member of the notorious Tri-City Bombers aka TCB, one of the Valley's most well known gangs. So he's as Pharr as it gets in my eyes, as he was able to overcome being a homeless kid in the rough neighborhoods of Pharr to become one of the top fighters in MMA.
A lot of prize fighters tend to come from very tragic backgrounds, but even by those standards, Huerta's upbringing was still terribly sad. From being physically abused as a child to being abducted by his mentally unstable mother to living in El Savador during the
Salvadoran Civil War to
joining the Tri-City Bombers (TCB) in Pharr, he's really the definition of a survivor. No one could really do the story justice in writing, so I thought I should upload the video of Roger Huerta telling the story himself and talking about his struggle and his time in El Savador, Mexico, and Pharr, TX.
Roger Huerta
Uploaded by ragingnoodles. - Check out more sports and extreme sports videos.
At the age of 20 years old, he started his mixed martial arts career, and by the age of 23 he was hired by the largest mixed martial arts organization in the world, the Ultimate Fighting Championship. He got some solid victories over Jason Dent at UFC 63 and John Halverson at UFC 67, but he didn't truly breakout until the UFC 69 show in Houston, TX. There he faced current WEC featherweight star Leonard Garcia in a fight of the night brawl that is fondly remembered as one of the most exciting fights of 2007. Huerta, quickly picked up another win in a fight against Doug Evans at the TUF 5 finale and followed that up with a great ground battle at UFC 74. Alberto Crane is a great submission artist and a BJJ black belt under Master Draculino, and he quickly took Huerta to the ground to implement his strength. It was an exciting chess match on the ground, where surprisingly Huerta was able to escape some dominant positions and submission attempts. Huerta came back, used his heart, cardio, and some good old fashion ground & pound to be able to TKO Crane in the third round. UFC was really high on Huerta at this point, he was a charismatic and exciting fighter with sex appeal that could potentially capture the elusive Hispanic demographic that the UFC was after.
Huerta's biggest MMA moment came at the TUF 6 Finale on December 8th, 2007, where he met his toughest opponent to date in MMA. Clay Guida was 2-2 in the UFC at that point in time, he suffered two controversial losses to the always tough Din Thomas and hot new comer Tyson Grffin in a classic. His two UFC wins were from dominating journeyman Justin James and outpointing PRIDE stand-out Marcus Aurelio, who at one point submitted the # 1 fighter in the world in Takanori Gomi at PRIDE Bushido 13. The odds were strongly in Guida's favor, he was a guy who had been fighting some of the best in the world like Josh Thomson, Gilbert Melendez, Din Thomas, Tyson Griffin, and Marcus Aurelio, while some fans and journalists criticized Huerta for getting a much easier road in comparison to Guida's. Huerta was viewed as someone that was being protected and handled with extra care while Guida was just thrown out there with the best in the division.

The fight delivered and then some, it was one of the greatest MMA fights of all time and with a comeback that is now legendary

. The fight played out like many suspected it would,

well at least for the first two rounds. Guida

was dominating Huerta with his incredible pace, relentless wrestling

takedowns

, and neverending ground & pound action. Huerta tried some submissions from the bottom, but he just couldn't catch the slick Guida with anything. At the end of the 2nd round,

Guida

rocked Huerta on the ground and came seconds away from being able to put Huerta away.

At the start of the third round, we had this now iconic staredown of Huerta knowing it was now due or die time, and Guida looking like the beloved insane gatekeeper beast that we all know and love: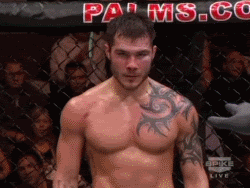 In one of the great comebacks in UFC history, Huerta nailed Guida with two hard knees that dazed the hairy beast and never allowed Guida to recover. He quickly swarmed after him with strikes, hammer punches, and was able to put Guida away with a rear naked choke for a very emotional victory. In 2009, it was voted by UFC fans as one of the 20 greatest UFC fights of all time, and it's probably one of my personal top 5 favorite MMA fights I've ever seen.

After his biggest win, he went back to college for a semester, but lightweight contender Kenny Florian was waiting to fight him at Minneapolis, Minnesota in one of the co-main events of the UFC 87 event. At the time, Huerta was going to through some negotiating issues with the UFC that caused a minor backlash from some fans. But that wasn't an issue here in the Rio Grande Valley. With his quick rise to fame in the UFC, every meathead with vague knowledge of MMA claimed that they were tight with El Matador. You couldn't go to a place and talk about MMA without someone speaking up and saying "I know ROGER!". I wonder where all these douchebags were when poor Huerta was living homeless in Pharr and sleeping on rooftops.

Huerta finally returned to fight Florian on August 9th, 2008, it was the co-main event to a stacked show that featured former WWE World Heavyweight Champion and current UFC World Heavyweight Champion Brock Lesnar versus PRIDE and K-1 Hero*s star Heath Herring, and UFC World Welterweight Champion Georges St. Pierre versus the second greatest welterweight of this generation in Jon Fitch. Unfortunately, unlike the Guida fight, this didn't have a spectacular comeback by Huerta at the end but it was still a very good fight between two of the best lightweights in the world. Florian, was simply the smarter and better fighter, was able to use superior striking and use wrestling takedowns when needed to frustrate Huerta en route to a unanimous decision victory. It was a disappointing night for Huerta fans, I was at Fast Eddies in McAllen watching the live PPV and as the fight was coming to an end, you could just feel everyone getting emotionally drained as they saw Huerta lose to Florian.

Huerta took some time off, made some movies, and came back to fight a guy who is now the #1 contender for the UFC Lightweight title, the undefeated juggernaut, Gray Maynard. The fight took place on September 16th, 2009 at UFC UFN 19 and Huerta surprised most by being able to win round 1. But as round 2 and round 3 came, Maynard had done enough to swing the fight back into his favor. A few people say it was a controversial decision, but even I as a big Huerta fan have to admit that this was another case of a better fighter getting the better of Huerta. The highlight of the fight came when Maynard caught Huerta in a head scissors-kimura combo, also known as the headscissors-double wristlock. Josh Barnett has used this technique before in fights and in interviews has called this technique a favorite of legendary catch wrestler Billy Robinson.Check out the grotesque gif below, it looks like Huerta's shoulder blade is about to pop out through the skin in a manner that reminds me of the guys broken arm in David Cronenberg's The Fly:
That was the last fight on Huerta's contract with the Ultimate Fighting Championship. There was a lot of speculation of where his career was headed, whether he was going to try to become a movie actor or whether he would be interested in heading over to Scott Coker's Strikeforce promotion. But his next move surprised most as he signed with the Bellator promotion. This promotion is a tournament heavy promotion known for airing on Fox Sports Net and employing top ranked lightweight Eddie Alvarez. With the newly signed Roger Huerta, he was by default the biggest star in the Bellator promotion. His first fight in Bellator was in the quarter finals of its lightweight tournament on 4/08/10 against a fighter by the name of Chad Hinton. It was a memorable scrap with some entertaining exchanges in the first round. It also featured some good ground & pound action by Huerta that was reminiscent of the way the great Caol Uno used to beat Fabiano Iha. Finally, Huerta finished what had been a pretty fun fight with a spectacular finish:
His next performance in the semi-finals was a loss and easily his most disappointing performance since emerging on the mainstream MMA scene in 2006. He put on a lifeless performances against Pat Curran on 5-6-10, it was disheartening as Huerta looked like a guy that was auditioning to be one of Robert Bresson's models as opposed to a guy who was in a big time fight. At least with Florian and Maynard, those guys were amongst the top five best fighters in the world while Curran was nowhere near the top twenty. Curran went on to win the lightweight tournament in one of the most controversial decisions of 2010. There was a huge uproar in fan disapproval as Curran was basically awarded the decision for having the honor of being beat on, judo throwed, and controlled by Toby Imada for 15 minutes. After the fight, Dave Meltzer of Yahoo Sports and The Wrestling Observer reported that Bellator was trying to negotiate a fight for Roger Huerta in Strikeforce. Unfortunately, some of conditions put forth by Bellator made it so that Strikeforce wasn't interested in that deal and turned it down. Then came this moment, which is now associated with Huerta moreso than his UFC fights or the much talked about Sports Illustrated cover:
http://www.youtube.com/watch?v=q9JpeKKBScA
It then came out that the large man that Huerta laid out was a Rashad Bobino, a former Texas Longhorns and Atlanta Falcons football player (it should be noted that while he was with the Falcons squad he never played an actual NFL game and was cut). With all this outside attention on Huerta, he had luck on his side as no charges were pressed on him and Pat Curran wouldn't be able to compete against Eddie Alvarez due to an injury. So with all the buzz on Huerta and considering the fact that Huerta was primarily brought in to fight Eddie Alvarez at the end of the year, he got the fight offered for October 21st, 2010 with the Bellator World Lightweight Champion in a non-title "Super Fight". Alvarez is favorite, he's considered one of the top fighters in the world and is arguably the best fighter Huerta has ever faced up to this point. It's hard to know who's better amongst Alvarez, Maynard, or Florian, but what we do know is that Alvarez is a much more impressive finisher than both those other guys. But as we've seen before in Huerta upsetting Guida, and in MMA in general, you never really know what could happen in a mixed martial arts fight and this is easily the biggest fight Bellator will ever put on. Should be an exciting fight, I hope Huerta could pull it off.